New Homes in Haltom City, TX
Save and compare homes and floorplans with your CB JENI account
CB JENI Homes
Heritage Village
Haltom City
---
Now Selling
Living in Haltom City, TX
An inner suburb of Fort Worth, Haltom City, Texas offers a relaxed living experience. Calm, yet connected, the city lies in the heart of three major highways, linking you to key employment and entertainment districts.
Enjoy short commutes towards work or play, including downtown Fort Worth and DFW International Airport. Explore the best of outdoor pursuits with Haltom's 11 parks. Discover unique museums covering everything from spas to antique toys to driving school models. Indulge in a shopping day out with close proximity to three expansive malls, including North East Mall, Sundance Square and The Parks at Arlington. With business and industrial parks, as well as exciting restaurant and entertainment developments underway, Haltom invites you to call the growing city home.
Read More
Select Savings in Haltom City, TX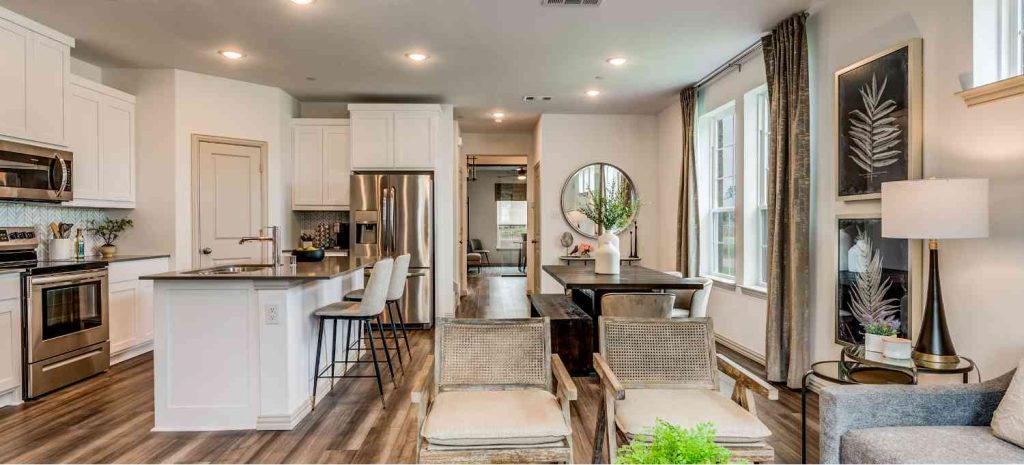 From the high $200s
Heritage Village
Haltom City, TX
---
Ask us about special low rate financing on quick move-in homes!
---
BHOME MORTGAGE | CB JENI 3-2-1 BUYDOWN FINANCING DISCLAIMER
* Promotional offer is available on select CB JENI homes to close and fund by December 31, 2023. For example, on an FHA 30-year loan, with a sales price of $398,990, loan amount of $385,025, a 3.5% down payment, closing fees of $11,380, a 760 FICO score, with a note rate of 7.5% | 8.506% APR, the monthly buydown principal and interest payments are as follows: Year 1 – payment of $1,985.00 calculated at 4.5%; Year 2 – payment of $2,224.38 calculated at 5.5%; Year 3 – payment of $2,476.20 calculated at 6.5%; and Year 4-30 payment of $2,739.26 calculated at 7.5% for the life of the loan. Example includes principal and interest only. Does not include property taxes, hazard insurance, mortgage insurance, or HOA dues. An escrow account is created that the seller deposited money in to "buydown" the difference in the subsidized monthly payment amount and the note rate. Available on CB JENI Homes financed by BHome Mortgage with purchase contracts signed 11/1/23, or later, and must close within 35 days. This offer is available for a limited time on select properties and can be stopped at any time without prior notice. The buydown option is not available for all loan programs or all loan amounts. Available for CB JENI Homes qualified home buyers. Contact your RMLO for current pricing. Example terms available as of 10/30/23. Home buyers can refinance their new home with BHome Mortgage between 6-18 months from their home's purchase, and not have to pay any closing costs associated with the refinance. Zero.
Buyer may not combine this offer with other offers published by CB JENI Homes. Offers, plans, prices, and availability are subject to change without notice. See Community Sales Manager for details.

**Pricing and promotions are subject to change at any time. Please see community sales manager for more info.

---
Discover Your Dream Home in Haltom City, TX
Experience the joy of finding your dream home with the help of CB JENI, your trusted partner in crafting new construction homes in Haltom City, TX. Nestled in the heart of the DFW metroplex, Haltom City is an ideal destination for those seeking the charm of a new construction home. Boasting a thriving community and a strategic location, Haltom City offers an array of housing choices tailored to the modern household. Whether you desire a new single-family home or a cozy townhome, the new construction homes in Haltom City are meticulously designed to fulfill your preferences.
Simplifying Your Path to New Home Ownership
Embarking on the journey of purchasing a new construction home is a significant step, but with CB JENI, the process becomes seamless from start to finish. Begin by perusing our online catalog showcasing a range of available home designs and floor plans. Don't hesitate to reach out with any inquiries you may have. If a particular home captures your heart, we'll swiftly arrange a viewing, granting you an in-person experience. Moreover, we're dedicated to assisting you in obtaining pre-approval in a secure and confidential manner. Our diverse array of mortgage options, including assistance programs for down payments, are designed to enhance affordability. At every stage, we're here to ensure that buying a new home is a gratifying and hassle-free venture.
Unveil New Home Communities in Haltom City, TX
Dive into the spectrum of possibilities with CB JENI's new construction homes in Haltom City. The city's landscape is brimming with options that cater to varying budget ranges, making Haltom City an irresistible haven for new home buyers. From cozy starter homes to lavish estates boasting contemporary amenities and spacious layouts, Haltom City offers a versatile selection that mirrors your family's unique lifestyle.
Embark on this exciting journey with CB JENI and find your perfect new construction home in Haltom City, tailored to your desires and crafted with unwavering dedication.
View Communities