New Homes in McKinney, TX
Save and compare homes and floorplans with your CB JENI account
CB JENI Homes
Normandy Homes
Southgate Homes
Living in McKinney, TX
Experience the best of both small-town charm and easy accessibility to city conveniences with life in McKinney, Texas. The city's picturesque suburban setting, cultural diversity, excellent educational opportunities, proximity to downtown Dallas and a strong sense of community have all been awarded with numerous recognitions. Previous awards include ranking in Money's "Best Places to Live in America" list and Wallet Hub's "Best Place for First-Time Home Buyers" list.
Home to one of the oldest and most active historic downtowns in Texas, McKinney's downtown commercial district houses more than 120 businesses, two dozen locally owned restaurants and a vibrant nightlife scene. From hosting NCAA football championships to PGA golf qualifiers, the city offers plenty of event opportunities for sports enthusiasts. Exciting recreational options span everything from baseball to disc golf to skateboarding to gymnastics.
Read More
Select Savings in McKinney, TX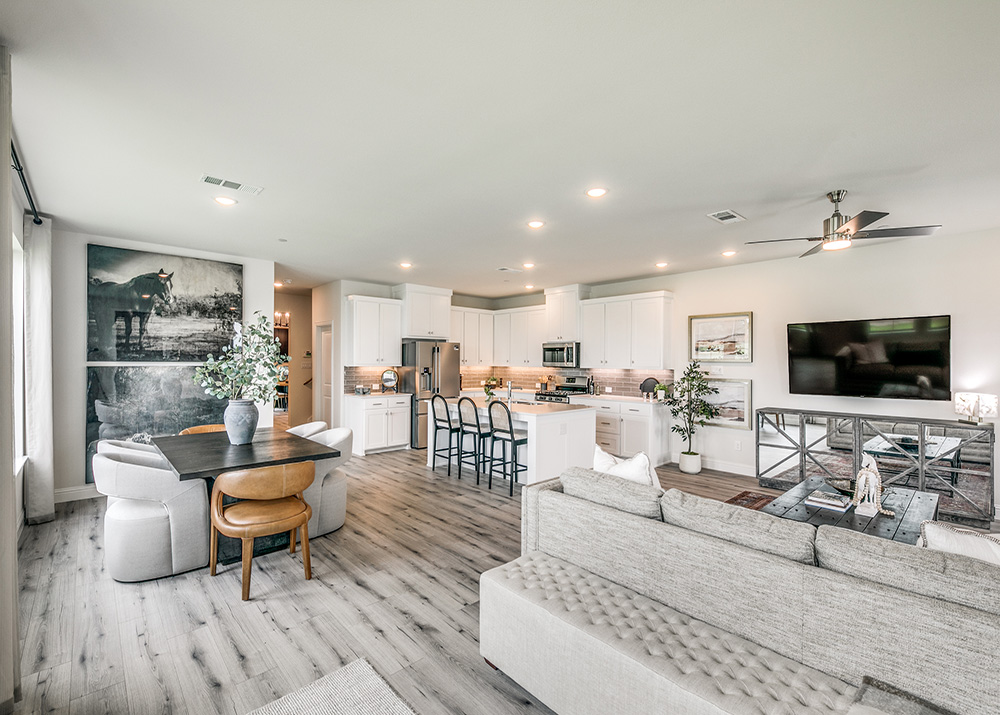 From the mid $400s
Painted Tree
McKinney, TX
---
Ask us about special low rate financing on quick move-in homes!
---
BHOME MORTGAGE | CB JENI 3-2-1 BUYDOWN FINANCING DISCLAIMER
* Promotional offer is available on select CB JENI homes to close and fund by December 31, 2023. For example, on an FHA 30-year loan, with a sales price of $398,990, loan amount of $385,025, a 3.5% down payment, closing fees of $11,380, a 760 FICO score, with a note rate of 7.5% | 8.506% APR, the monthly buydown principal and interest payments are as follows: Year 1 – payment of $1,985.00 calculated at 4.5%; Year 2 – payment of $2,224.38 calculated at 5.5%; Year 3 – payment of $2,476.20 calculated at 6.5%; and Year 4-30 payment of $2,739.26 calculated at 7.5% for the life of the loan. Example includes principal and interest only. Does not include property taxes, hazard insurance, mortgage insurance, or HOA dues. An escrow account is created that the seller deposited money in to "buydown" the difference in the subsidized monthly payment amount and the note rate. Available on CB JENI Homes financed by BHome Mortgage with purchase contracts signed 11/1/23, or later, and must close within 35 days. This offer is available for a limited time on select properties and can be stopped at any time without prior notice. The buydown option is not available for all loan programs or all loan amounts. Available for CB JENI Homes qualified home buyers. Contact your RMLO for current pricing. Example terms available as of 10/30/23. Home buyers can refinance their new home with BHome Mortgage between 6-18 months from their home's purchase, and not have to pay any closing costs associated with the refinance. Zero.
Buyer may not combine this offer with other offers published by CB JENI Homes. Offers, plans, prices, and availability are subject to change without notice. See Community Sales Manager for details.

**Pricing and promotions are subject to change at any time. Please see community sales manager for more info.

---
Your Ideal Home Awaits in McKinney, TX
Welcome to McKinney, TX, where your search for the perfect home ends and your journey to new beginnings begins. CB JENI, we bring decades of expertise to the art of constructing new homes in McKinney. Nestled in the vibrant landscape of the Dallas-Fort Worth metroplex, McKinney stands as a testament to new construction living. With its thriving community and strategic location, McKinney offers an array of housing options tailored to modern sensibilities. Whether you're envisioning a spacious family haven, an elegant estate, or a charming townhome, our new construction homes in McKinney are meticulously designed to cater to your preferences.
Pioneering Effortless Homeownership
Embracing the journey of owning a new construction home is a monumental decision, made simple with CB JENI by your side. Begin your adventure by exploring our online gallery, showcasing an array of available home designs and thoughtfully crafted floor plans. Reach out to us with any questions that arise during your search. Upon discovering a home that resonates with you, we expedite a personal viewing, allowing you to experience the ambiance firsthand. Facilitating your pre-approval process in a secure and confidential environment is our commitment. Our diverse range of mortgage options, including programs for down payment assistance, ensure that owning a new home is not just a dream, but a tangible reality. Through every phase, we're dedicated to making your new home purchase an enriching and seamless experience.
Explore McKinney's Premier New Home Communities
Delve into the possibilities that await you with CB JENI's new construction homes in McKinney. McKinney's dynamic landscape caters to a variety of budget ranges, making it an irresistible haven for individuals seeking new homes. From cozy starter homes to opulent estates adorned with modern luxuries and expansive layouts, McKinney offers a diverse selection that harmonizes with your family's distinctive lifestyle.
Experience the joy of personalized living as you journey through the process of acquiring a new construction home with CB JENI. Your dream home in McKinney awaits, crafted to your desires with meticulous attention to detail.
View Communities