Three-Story Townhomes Offer Exclusive Views on Viridian Island
Who knew you could live on an island in Arlington, Texas? Homeowners who live in the CB JENI townhomes in Viridian Island say the breathtaking balcony views are unlike any other in the city.
Viridian residents are part of a master-planned community that offers an idyllic setting for an active lifestyle with luxury amenities right out your front door. Imagine sitting on your balcony watching sailboats go by on Lake Viridian as you wind down with a good book. Young professionals, active retirees, families, and those with a busy travel schedule will enjoy the perks of low-maintenance lifestyle home life while living in a thriving community with lots to do.
Plus, the three-story townhomes provide additional benefits that may not be apparent during a house hunter's first walkthrough. Read more for the top five benefits of living in CB JENI's three-story townhomes on Viridian Island.
The balcony and window views are unmatched.
Take a bridge to your townhome and enjoy waterfront views every single day. Located right off the main living area or dining room in most floorplans, the second-floor covered balconies protect you from the sun and heat, while giving you views of the lake. Other views include a planned mews, or greenbelt courtyard, which will boast an arbor and seating area, seasonal gardens, and walking paths. From the owner's suite on the top floor, you can cozy up to your window seat (an optional feature) with your morning coffee and catch the morning skies over the water.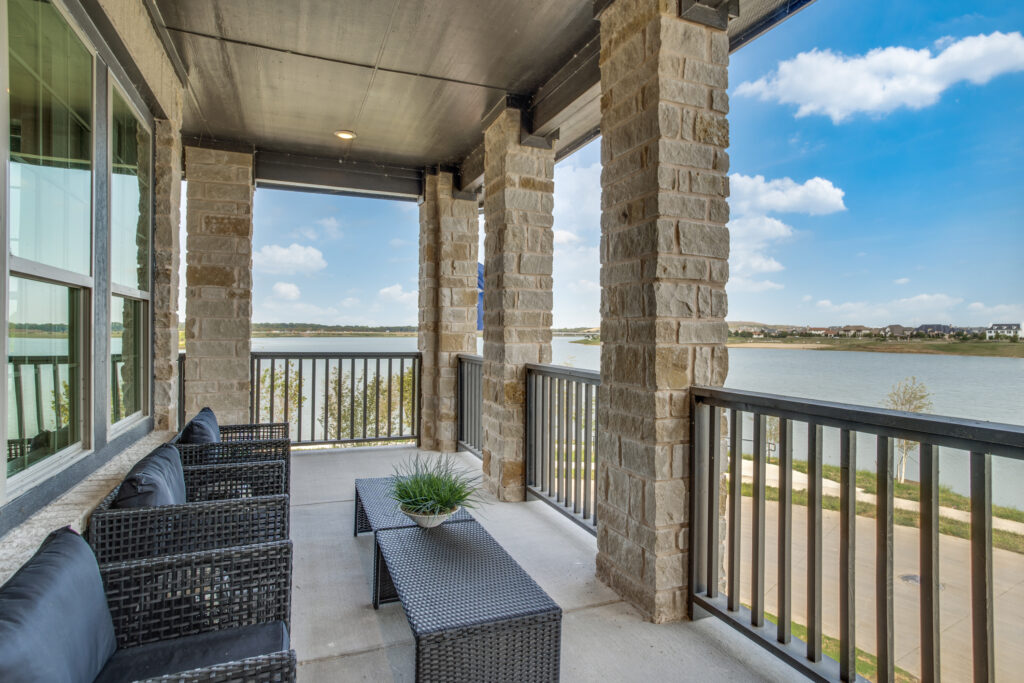 Your yard is a thriving, master-planned community.
While some townhome buyers express concern about not having a yard, CB JENI's Community Sales Manager Yolanda Broadway explains the vast perks of the Viridian community, "Your neighborhood is your backyard." River Legacy trails, lakes, parks, and five pools all sit on 850 acres of open space, plus 150 acres of wooded conservation areas to explore. Included is a beach area, volleyball courts, tennis courts, walking and biking paths, and much more. Not many neighborhoods have kayaking, paddleboarding, fishing, and more right at their doorstep. The lake is open to non-motorized leisure for a truly relaxing atmosphere.
In addition to the amenities, activities are starting to pick up again to help meet your neighbors in this tight-knit community. The Viridian Lake Club is a centerpiece of the community that houses the pools, pavilion, and small amphitheater. Take sailing lessons or come for the annual Firecracker Regatta every fourth of July.
"It's like a small city. Every weekend during the spring and summer, there's so much to do," said Melanie Davis, CB JENI's Viridian Community Sales Manager. From food trucks to goat yoga to farmers' markets, Davis comments you can enjoy the laid-back lake life or jump into activities planned by Viridian's on-site events coordinator.
Every bedroom has an en-suite bathroom.
This feature allows not just the owners, but teenagers, kids, and guests to have their own fully equipped bathroom, in addition to a powder room on the second floor. The high-end finishes and modern touches, like Venetian marble countertops and hand-laid ceramic tile flooring, make each bathroom feel like a retreat. Some floorplans like the Grant offer a double walk-in closet for even more storage and comfort.
Guests enjoy ultimate privacy.
Whether it's long-lost friends or your in-laws you haven't seen since pre-pandemic, guests can appreciate the privacy of their own suite on the first floor. They'll have easy access from the garage or front porch. The attached bathroom and walk-in closet make it ideal for long-term guests to feel at home and enjoy your home without using the same space for daily routines. You can all gather on the second floor for family dinner with a view, then head out to the miles of walking trails. If you want to use the first floor guest room as an office, guests can settle into the second bedroom with their own en-suite bathroom on the third floor.
The main floor is ideal for family time and entertaining.
The large open-concept kitchen, family room, and dining room on the middle floor provides the perfect family gathering spot at the end of a long day. Most plans feature a five-burner gas cooktop. Plenty of counter space at the kitchen island allows you to easily prep dinner while guests visit. Extend your entertaining out onto the balcony with your guests and enjoy the views as you catch up with a glass of wine at the end of the day. The cabinet and lighting choices will make your home feel custom. The architectural features, like deluxe high ceiling heights (per plan) and trim packages, will make your home feel both inviting and luxurious.
The Viridian master-planned community offers countless other benefits, like high-performing schools including Viridian Elementary (HEB ISD), a school of choice on site. The planned Viridian Village will give residents shopping and dining options close to home in addition to the Arlington Entertainment District.
Three-story townhomes, like those found in CB JENI's Viridian Island community, provide a functional, yet beautiful space for busy professionals, families, retirees, or hosts with frequent guests. From added privacy to gorgeous views, the benefits of three-story living are many.

Call CB JENI today to tour a model or discover beautiful townhomes available in the Viridian community today.