Creative Ways to Make Small Spaces Feel Larger and Work Harder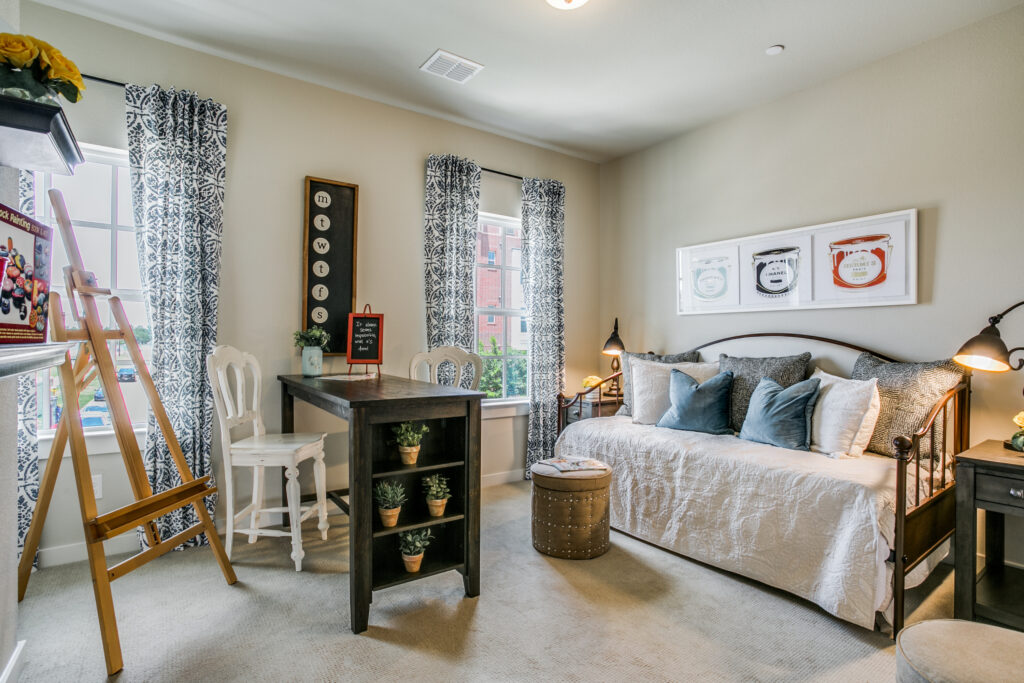 In your new townhome, you'll soon discover fun, creative ways to personalize and maximize your space. CB JENI's Director of Design Christina Wilcocks shares ideas to make your townhome feel even larger, including imaginative guest spaces and dual-purpose rooms.
Generous Features Make a Great Blank Canvas
As a starting point, CB JENI townhomes offer a sizable jump in square footage over the average apartment in the Dallas-Fort Worth area, with floorplans ranging from 1,100 to 2,250 square feet. When you walk into a CB JENI townhome, you'll notice plenty of space to live, work, and make lasting memories. The two- or three-bedroom townhomes are ideal for young professionals, small families, frequent travelers, downsizing empty nesters, and anyone who doesn't want the stress of outside maintenance.
Wilcocks says that each townhome offers features that homebuyers love, like large walk-in closets in the owners' suites, spacious pantries, and attached one or two-car garages. In addition to these highly desired storage areas, the inviting kitchen/family room areas allow for innovative layouts to suit your needs.
Several CB JENI floorplans, like the Carson, include a two-story family room that makes the space feel light and airy. One-story floorplans like the Malone in Argyle's Harvest community offer a private front porch and a large great room perfect for entertaining. Many floorplans, like the Ansley, feature a kitchen island or peninsula that doubles as an eat-in dining space or a spot for homework and food prep.
Smart Layout & Creative Dual-Purpose Spaces
A flexible loft area is available in several plans, like the Azalea floorplan, that you can convert into an office, reading nook, or extra sleeping area for guests.
Wilcocks says that Murphy beds are a great way to maximize space and are becoming easier to purchase and incorporate into your home. Some Murphy beds feature a desk when the bed is folded up against the wall, or shelving units around the frame for displaying books and decor. Make sure to measure first, then browse sites like Overstock or Wayfair to find a pre-constructed Murphy bed that matches your style and looks custom for your space.
Daybeds with trundles are another attractive solution for extra seating and sleeping areas, whether it's the guest bedroom or loft area. Some daybed models come with a pop-up trundle to create a king-size bed.
"Bunk or loft beds are also a big hit and aren't just for kids anymore," says Wilcocks, stating you can create a cool loft bed with a desk or sofa space below. The grandkids or your best friend from college will love coming to visit with a space of their own.
If you've joined the masses who continue to work from home (even on a part-time basis), discover plenty of options for an office area — a nook in the main floor dining/family room, the loft, or a spare bedroom. Putting a desk in the owner's bedroom is also a smart use of space, as the closet has ample storage for clothes, reducing the need for large dressers.
Wilcocks offers this design hack for those who want a desk in the main living area: "Open desks can be used as a media console/desk area and make your family room multi-functional while still beautiful. Hang your TV on the wall and place a writing desk below with a round ottoman or low-back stool. You can also use the TV as a big monitor for your computer with this setup."
Right-sizing your furniture to your room also helps with flow and function, says Wilcocks. For example, an oversized wrap-around sectional sofa may not work if you want to create more intimate, designated spaces in your great room. With the open rooms and options for additional dining areas, it's easy to carve out a corner of the dining/living area for a desk, piano, or hobby space.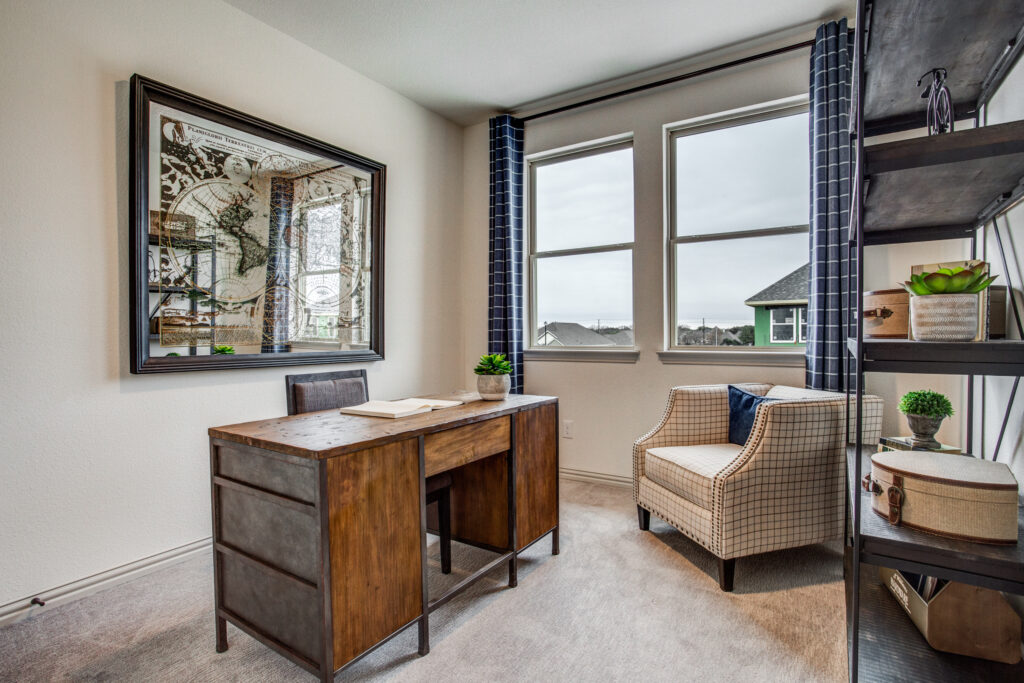 The Garage — An Extension of Your Home
CB JENI townhomes have an attached two-car garage, allowing you to store your seasonal decor, bicycles, sports gear, and more.
"Keep in mind that one of the many benefits of townhome living is that they are low-maintenance, so you won't have a mower, edger, weedeater, blower, or rakes taking up precious space in your garage," says Wilcocks.
Your townhome's garage offers a huge advantage over apartment living. Homeowners can re-imagine the garage as a multi-purpose room with space for a mudroom bench/shelving unit, storage for bulk purchasing, an arts and craft area — and yes, the car!
Maximizing the space in your townhome can be personal and practical, infused with style and creative solutions. Book an appointment online to find a CB JENI townhome that's the perfect size for you and your family.