Why a Two-Bedroom Townhome is a Good Investment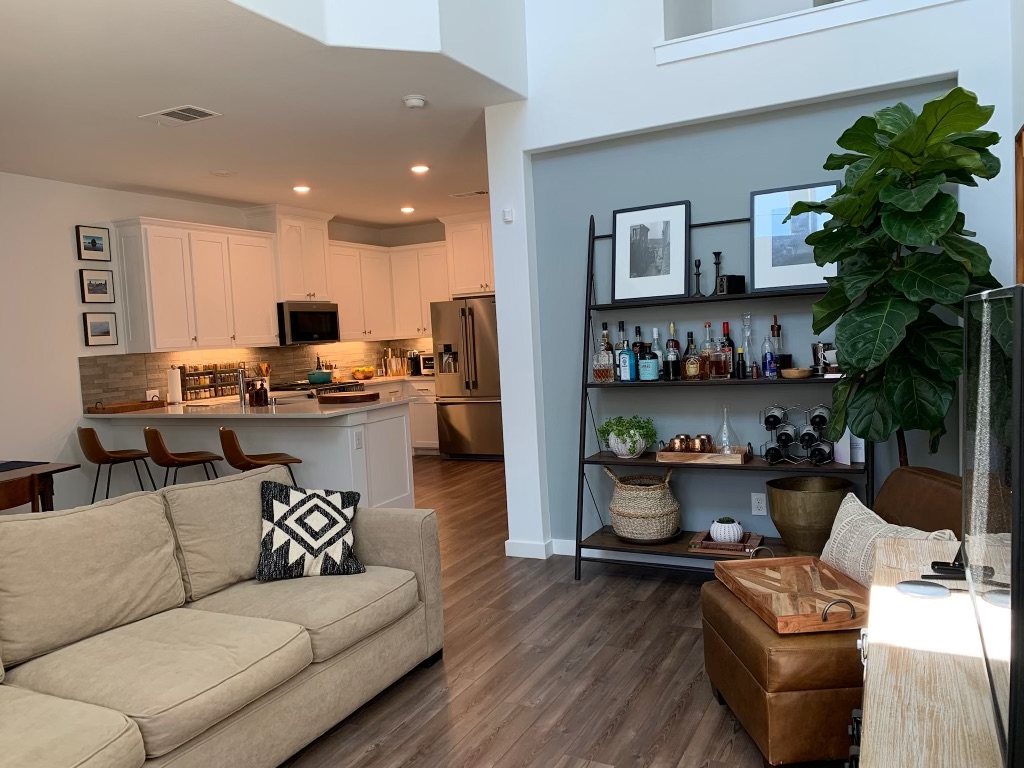 Images of Carson plan provided by homeowners Anthony and Cynthia C.
"The Carson plan was a perfect fit for us in price point and square footage"
Buying a piece of today's real estate market may seem like a far-off reality, but homeownership in north Texas is more achievable than you might think.
If you want to live in one of the most sought-after markets in the Dallas Metroplex like Allen, Frisco, or McKinney, then a CB JENI townhome may be a perfect option. When you compare the cost of buying a new home versus renting, you'll see that a mortgage is often an affordable, wise, and satisfying investment. Plus, CB JENI's two-bedroom townhomes provide attractive options for professionals, young families, empty nesters, and adventurers who love to travel.
"The primary reason I bought this house was that it was the perfect size for just my son and me," said homeowner Avita B. "Plus, the townhome itself and community are super cute — and located in a great school district!"
As Dallas suburbs continue to rank in the top places to live in the U.S. over the past decade, a recent survey shows the region also ranks well on Best Places to Buy a House and Best Places to Raise a Family. It's true that both rent and home prices are growing with more demand as people flock to the area, but buying a home of your own allows you to put down roots in a community that can rival the cost of renting in the same city.
Two-Bedroom Advantages
Maybe you're a single professional who travels frequently, and the second bedroom serves as an office and guest room, making the two-bedroom model ideally suited to your lifestyle. If you're a new family just starting out, but want to be in a desirable school district, a two-bedroom townhome is right-sized for your family with upstairs loft areas perfect for play spaces — all in a community with attractive family-friendly amenities like pools, community clubhouses, greenways, parks, and more. For those who are downsizing, you simply want less to take care of but still offer a room for guests coming to visit.
"The Carson Plan was a perfect fit for us in price point and square footage," said Anthony C. of the two-bedroom plan. "With it only being Cynthia and me, we didn't need anything bigger. Both bedrooms were generous in size and the primary closet is huge, and a major selling point."
Working from home 50% of the time, Anthony said the second bedroom doubles as their guest room and office, with plenty of space that doesn't feel cluttered. He added that the open floorplan is great for entertaining, but also cozy when it's just his wife and himself.
Owning a townhome offers other perks you won't find with an apartment. Many of CB JENI's townhomes, for example, have an attached two-car garage, 2.5 bathrooms, and a private patio area for some floorplans like the Bridgeport. Select two-bedroom floorplans also offer a loft area for additional space.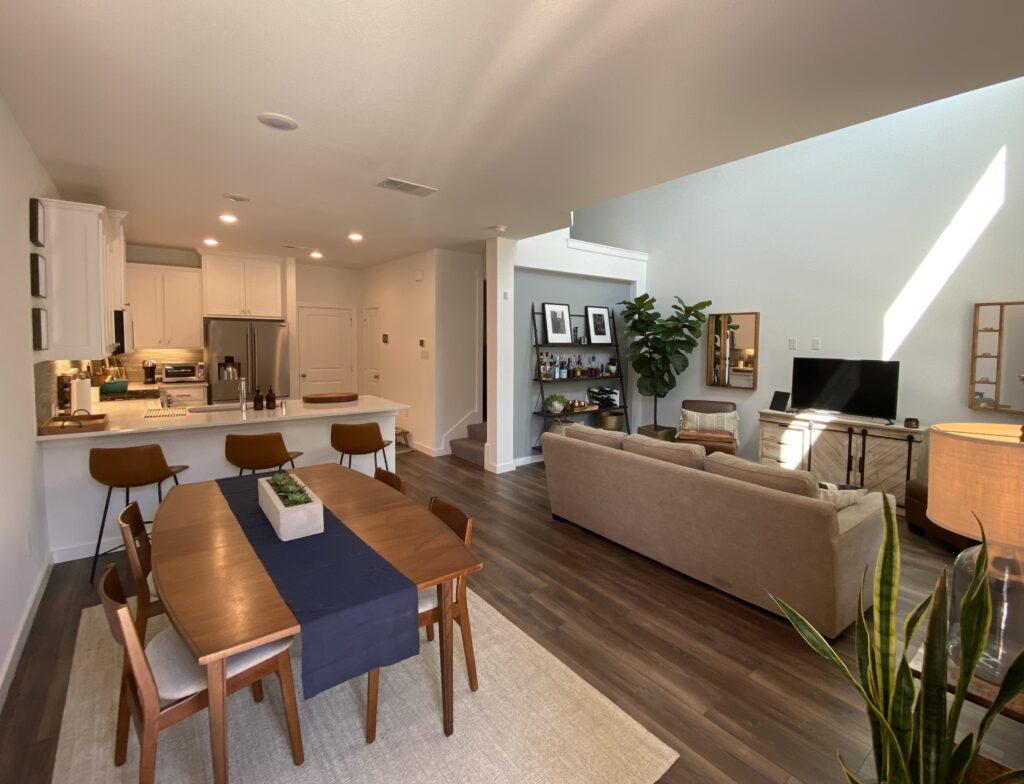 Renting vs. Owning: Comparing the Costs
Comparing the costs of rent and mortgage payments might just spur you to start the pre-approval process. With a fixed-rate mortgage, buyers won't have to worry about the uncertainty of housing cost increases each year as they do with rent.
The numbers speak for themselves. According to RentCafe, the average cost to rent an apartment (as of March 2022) for the following Texas cities is shown below.
| | | |
| --- | --- | --- |
| Texas City | Avg. Apartment Rent | Avg. Apartment Size |
| Allen | $1,638 | 948 sq. ft. |
| Frisco | $1,814 | 942 sq. ft. |
| McKinney | $1,661 | 933 sq ft. |
First, you'll get significantly more square footage for your money in a CB JENI townhome for comparable monthly payments. For example, the Azalea floorplan is 1,800 square feet in Frisco's Park Vista. If you put 20% down, your monthly mortgage payment is not much higher than Frisco's average rent — but almost double the space! In McKinney, buyers who put a 20% down payment on a mortgage for the Carson two-bedroom floorplan (1,512 square feet) would also find payments comparable to rent prices.*
While a mortgage may be a big commitment, you gain predictability and an investment in a sought-after neighborhood community. These areas rate highly for good schools, a lively restaurant and entertainment scene, and ample opportunities for recreation and culture. Finally, CB JENI communities are near major highways in DFW with easy access for commuting to work or to the DFW airport.
Leave Your Worries Behind
Purchasing a CB JENI townhome offers you the same desirable lock-and-leave lifestyle as apartment living, but with many added benefits. A townhome home with no outside maintenance, like yard work, gives you the freedom to come and go as you please. The HOA will take care of the outside so you can use your precious time after work to explore, build memories, and create a well-rounded life all while investing in something you're proud of. You can have peace of mind knowing neighbors are watching out for your home because it also helps maintain their property value.
The benefits of buying a two-bedroom townhome are clear:
Building equity in a home for a comparable rate to rent that offers elevated design features, more square footage, and cost predictability
Creating an easy on-the-go lifestyle that means less to manage
The ideal amount of space for your family and phase of life
Homeownership in a popular DFW city
Make an appointment today to discover a CB JENI community that you will be eager to call home. Read more here on Why Buying a Townhome is an Easy Choice.
*Cost comparisons do not include HOA dues or property taxes and are calculated based on average rent, housing prices, and mortgage interest rates (4.5% to 5%) as of March 23, 2022.