Organize and Refresh Your Townhome for Spring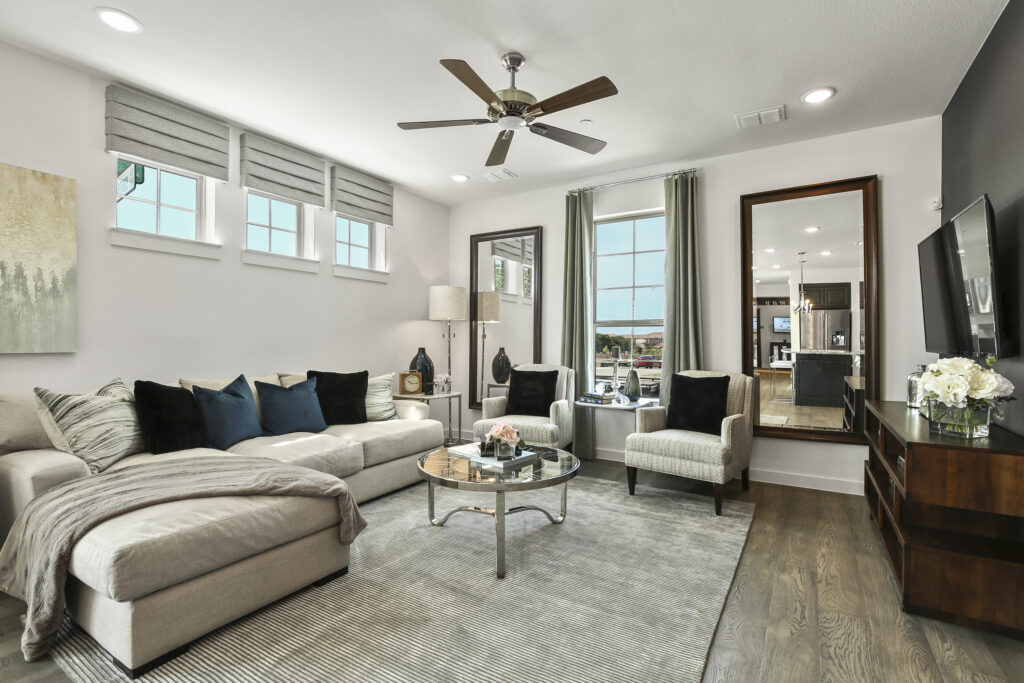 The sun is shining for more hours in the day, and the breeze ushers in the fresh spring air. The world is slowly emerging from a pandemic that forever changed how we view our homes. Our spare bedrooms have become offices, our kitchen tables have transformed into school rooms. With more "life" happening at home over the past year, clutter surely began to pile up.
The low-maintenance lifestyle at CB JENI townhomes means you can focus all of your organizing energy indoors, then enjoy your townhome community's outdoor amenities and the local parks in the Dallas-Fort Worth area.
We've compiled some tips from the nation's top organizing gurus to help you refresh your home for spring. With the tradition of spring cleaning going back thousands of years, now is the time to open your windows, turn on some music, and start organizing!
Work One Room at a Time
To avoid overwhelm, start with a small project like your owner's closet or bathroom. Stay in that area until you're pleased with the results, even if it takes a few hours or several days. Every professional organizer agrees – it will look worse before it looks better! Make a list of your high priority areas so you can tackle those first.
Make 3 Piles – Keep, Trash, Sell/Donate
During your organizing projects when the clutter spreads, it's easy to clutter up your mind. The solution? Label three distinct piles (or even better – bins) as "keep," "trash," and "sell or donate." Then promptly put away the "keep" items and get rid of the other two piles as quickly as possible. Kathi Lipp, Clutter Free author, helps you answer this question on her podcast episode, "Do I sell it, donate, or give it away?"
Eliminate Extras
Too many coats? Who needs two hand mixers? It's time to ask the tough questions – you'll feel much lighter when there's less to organize. Extra towels and linens are a good place to start, as are kitchen appliances and your closet. The easy decisions? Throw out broken objects and expired items in your pantry, make-up drawer, and medicines.
Buy Uniform Containers – and Use Labels
Creating a cohesive, attractive space – whether it's in your owner's closet or the kitchen pantry – helps motivate you to maintain the organizational system. Whether you prefer wicker baskets, clear bins, or metal storage, you can find your ideal solutions online or at The Container Store (with multiple Dallas-area locations) or Ikea (in Frisco or Grand Prairie). For your dresser drawers or closet, check out Marie Kondo's tidy KonMari folding method. Once you have your system established, label bins and shelves. Real Simple magazine suggests temporary labels, like 3M Scotch Dry Erase tape, until muscle memory is established and the habit is firmly established. The Home Edit gurus, on the other hand, are pro-label to help you remove the guesswork and keep the whole household on track.
Designate a Drop Zone or Command Station
Mail, shoes, backpacks, purses, keys … your entryway or kitchen counters often become the collector of everyday items you need, but get in the way. Creating a designated drop zone helps contain the clutter. Select floorplans in CB JENI townhomes include a built-in space off the garage with a bench, cabinet, and hooks ideal for your drop zone. Or get creative and utilize space in your coat closet or entry way with baskets for shoes, hooks for bags, and a container for mail. See Better Homes & Gardens' drop zone ideas.
Good Systems Encourage Good Habits
Once you've purged unnecessary items and established a good system, encourage everyone in your household to use the designated spaces so there's less rush and more harmony when it comes to finding things. Check out Chowhound's Ultimate Guide to Cleaning & Decluttering Your Space for nearly every room in your house.
Do the Big Jobs
When you have the time and energy, tackle the "big jobs" you put off during the colder months. Take your area rugs outside and beat the dust out of them. Clean windows inside or wipe out kitchen cabinets. Get to the pile of random items in the garage. As you do this, continue to purge.
Other quick tips:
Store items where they are used. Keep bathroom cleaning supplies in the bathroom, for example.
Group like items together. Keep all of your extra soaps and shampoos together. Designate one spot for candles. Have one drawer or container for hair accessories.
Use dividers and small bins for small spaces. Organize the junk drawer, your jewelry, or your ever-growing makeup collection with small containers.
Take advantage of vertical storage. Utilize vertical shelves for sheet pans in the kitchen. Get a quilt ladder to store blankets. Get creative with an over-the-door shoe organizer to store cleaning supplies, craft items, toys, and more.
For mementos, save a few. If you want to savor sweet notes or your kids' art, limit the container size or snap digital photos and create a photo book.
Whether you're downsizing to a townhome or making your first home purchase, CB JENI townhomes offer spacious floorplans and generous closets that provide the ideal backdrop for your spring cleaning and organizing efforts. Tackle these tips and refresh your home this spring.