Where Should I Live? Finding Your Home, Community & Connection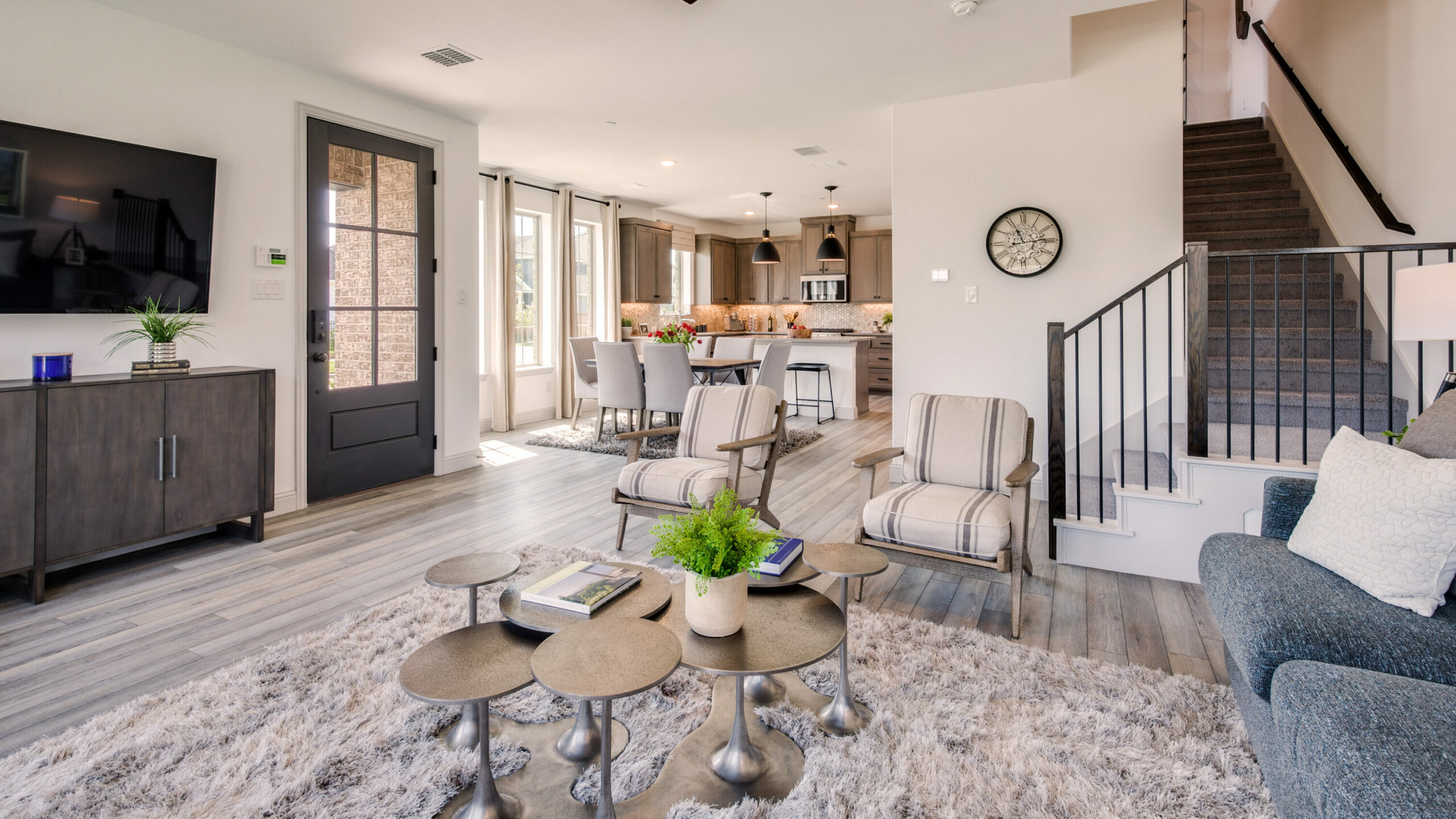 "A good neighbor is a priceless treasure." – Chinese proverb
What does "home" mean to you? Where do you spend the most time outside of work? Do you want a neighborhood where friendliness and community thrive? Do you want nearby activities that are easily accessible? Deciding where to live is more than a location or a roof over your head. Finding a home means building memories, forming connections, and creating the life you want right where you live.
From active, nature-loving families to busy young professionals who want a lively social scene, buying a home means considering what's most important to you. Whether you're coming home with your newborn or returning from your post-retirement vacation, you want a place that evokes comfort and community.
If you are moving from a lease to investing in a home, and still want the freedom of a lock-and-leave lifestyle, CB JENI townhomes may be a perfect fit for you. Townhome living in a CB JENI community, built in sought-after Dallas-Fort Worth suburbs, provides accessible homeownership that fits an active lifestyle while fostering genuine connections.
"I never felt like I was walking into a townhome," said homeowner Rebecca L. of the privacy they enjoyed, while still building true friendships in their fenceless community. "When you don't have a fence, you have a unique opportunity to build lasting, once-in-a-lifetime relationships with those who live near you. We've built lifelong friendships just by bringing our grill out onto the driveway."
Finding a Neighborhood for Your Lifestyle
No doubt, the lock-and-leave lifestyle is one of the primary reasons townhomes remain a popular choice for homeownership. From the business traveler to retirees to busy families, outdoor maintenance can be a time-consuming chore. Landscaping and lawn upkeep provided by the HOA, plus the security of nearby neighbors and peace of mind, free up your time to build relationships and explore all of your favorite activities.
You can find a CB JENI neighborhood in the top DFW suburbs, including Plano, Frisco, and Flower Mound. From nature enthusiasts to the bustling city life, consider buying a townhome in one of these thriving communities that fits your lifestyle.
Townhome Living Near the Outdoors
There's plenty to do outside in North Texas year-round, and deciding where to live that's close to nature means plenty of options. Consider a townhome in the Viridian community in North Arlington, boasting 1,200 acres of nature trails and the only major community in DFW with access to a major river – allowing for year-round fishing, kayaking, and sailing.
The Villas at Southgate in Flower Mound are located near the Lake Grapevine Recreational Area. Knock on a neighbor's door and explore the 9 miles of hiking/biking trails, grab your fishing pole, or charter a boat tour. If you love getting your hands dirty, tour the townhomes in our unique Harvest neighborhood in Argyle, a community that gives a nod to its farming heritage with a working commercial farm. The professional farmer shares his expertise with families, educating Harvest Littles on growing produce.
Sports enthusiasts in the Frisco, Texas, area can find plenty to do, from the local golf courses to an FC Dallas soccer match at Toyota Stadium or the local minor-league baseball team, the Frisco RoughRiders, at Dr. Pepper Stadium. The Star, the Dallas Cowboys training center, also offers tours, shops, restaurants, and fun for locals and visitors to explore. You'll find numerous townhome neighborhoods with easy access to the outdoors – the hardest part will be deciding where you want to live!
Townhome Living with a Social Scene, Entertainment, & Shopping
Growth is exploding, as DFW communities consistently rank on the US best places to live for quality of living, schools, business and industry, and leisure activities. The location of CB JENI neighborhoods, right in the heart of the growing suburbs, means access to popular social gathering spots, entertainment, shopping, and dining.
Our Frisco communities (Majestic Gardens, Frisco Springs, and Park Vista) are just a short drive from the walkable streets of downtown Frisco, where you can visit boutiques and local restaurants on Main Street and the Rail District. You can catch live music and local events year-round. Family-friendly activities like go-karts, escape rooms, museums, bowling, skating, and more are within minutes of our townhomes.
If you have the itch to shop (or need to find some necessities like new shoes for your ever-growing kids), then local shopping centers abound. Check out the Stonebriar Centre mall or The Shops at Legacy. For the foodies, the Frisco Fresh Market is the largest farmer's market in the area and offers seasonal events and pet-friendly walkability.
Townhome Living & Easy Travel
A townhome's lock-and-leave lifestyle, with no yard maintenance, makes it easy for you to travel and have peace of mind while you're away. If you're on the go frequently for work or play, our neighborhoods offer easy access to major highways and the airport. Depending on your commute, our neighborhoods dot the map around the most-traveled highways, including 1-35E Express, Highway 121, Sam Rayburn Tollway, Dallas North Tollway, Texas 183 TExpress, or Interstate 820. Less than an hour from any CB JENI neighborhood, DFW Airport is also convenient for frequent fliers. The Viridian and the Villas at Southgate communities are especially nearby.
Connection and Community at Your Front Door
Staying close to home offers plenty of opportunities for connection, from day-to-day interactions at the mailbox or pool to special events hosted by the community HOA. You can organize your own neighborhood block party by asking someone to grill hotdogs as you volunteer to cover the s'mores. Or take advantage of community-planned events, including:
Food truck nights
Weekly water aerobics or yoga
Dog park meet-ups
Kid-friendly education classes, from art to animals to farming
Some CB JENI townhome communities, like Pecan Square and Harvest in Northlake/Argyle, even provide on-site cafes and recreation centers. Lifelong friendships can grow as you invite and invest in those around you.
What's Home to You?
In addition to lifestyle, connection, and community, the fourth pillar of CB JENI's philosophy is "home." Our townhomes offer quality construction, eye-pleasing architectural design, gorgeous kitchens and bathrooms, plus floorplans to suit your needs. But before finding a style of home you love in a convenient DFW suburb, you need to ask, "What's home to me?" Is it a community right outside of your front door? Is it making connections beyond waving at your neighbor? Is it a lively social scene or a leisurely walk with a friend you met at the dog park? Finding community with your neighbors can be achieved, along with the privacy you crave when you kick your feet up at night.

Where to Live
Exploring the outdoors, gathering with neighbors in the driveway, and discovering local gems create a well-rounded life right where you live. Explore CB JENI's community map to pinpoint the DFW suburb that appeals to you and your lifestyle. In addition to investing in a townhome, you'll find genuine community and connection beyond the walls of your home right at your doorstep.