Energy Savvy Features in Your Home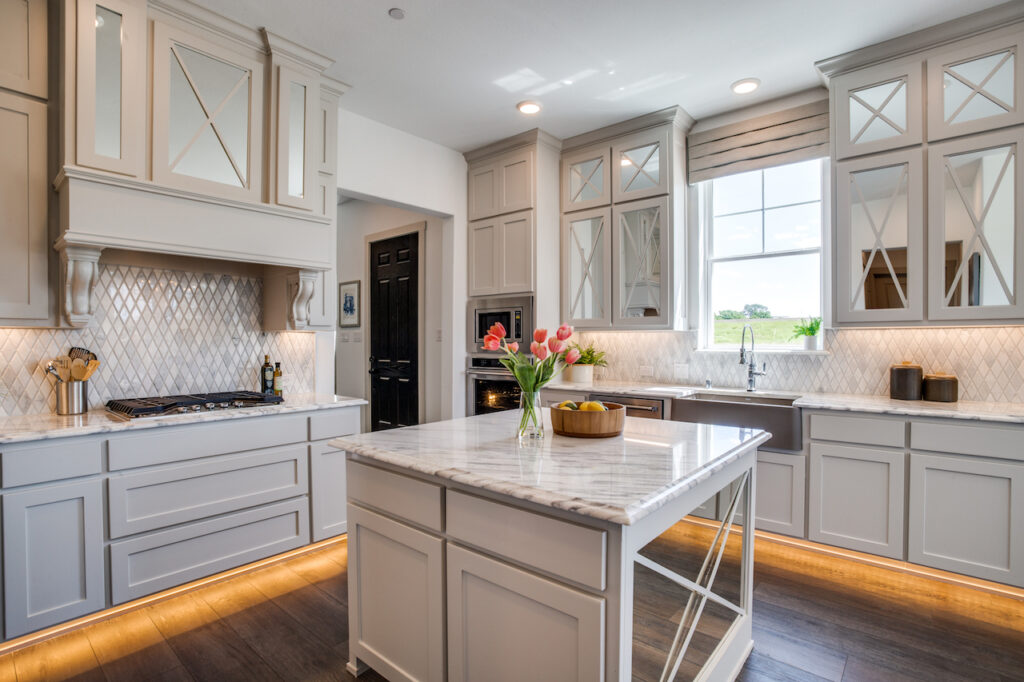 As the Texas weather heats up, taking advantage of your home's energy saving features allows the sun to shine in without the sticker shock of high energy costs. Thoughtful energy savvy components are built into every CB JENI townhome that homeowners and new buyers benefit from without any extra hassle.
The top advantages of your home's energy-efficient efforts include:
-Saving money on energy bills
-Increased comfort from temperature control and noise control
-Conservation of water by avoiding excess use
-Positive environmental impact
Let's explore CB JENI townhomes' energy savvy features that save money, increase comfort, and give you peace of mind so you can fully enjoy your summer.
Insulation
One of the top energy saving measures in your townhome is hidden behind the walls and in the attic. While it is not one of the bigger selling features — like a gorgeous kitchen or spacious living area — insulation makes a big impact month after month. CB JENI townhomes have R-38 blown attic insulation, offering 12.75 inches of protection that covers all the nooks and crannies that rolled insulation may miss. Vaulted areas feature R-22 batted insulation with resistance to fire and mildew.
Quality insulation not only helps reduce heating and cooling costs, but also helps with noise control and is breathable to help prevent mold. Concerned about cool air escaping through your garage? No worries, as CB JENI townhomes offer insulated garage doors.
Shared Wall Noise Control
The shared party wall of your townhome features R-11 double insulation, plus a DensGlass® shaftliner that provides noise resistance and a two-hour firewall for safety. This standard feature offers added protection and also means you can enjoy the privacy of your home without concern over noise from your neighbors.
Windows
Did you know that 70% of energy loss occurs in a home's windows and doors, and 90% of lost energy from windows is through the glass? That's why CB JENI homes use Low-E (low-emissivity) double pane insulated windows. The dual-paned windows with thermal break welcome in natural light, while reducing the penetration of UV rays. This helps you maintain your home's temperature with your AC or heating system, not at the mercy of the hot sun. Additionally, the exterior vinyl window panes take on less heat than their metal counterparts.
Heat Deflection and Moisture Control
In the Texas sun, homeowners can appreciate efforts to reduce the sun's effect on the inside temperature of your home. CB JENI builders install radiant barrier roof decking to deflect heat and keep your house from absorbing solar energy. This is especially important in a warm climate and can reduce the attic temperature by 30 degrees, according to the TechShield manufacturer. In addition, the heating and AC systems are sealed, as are base plates and openings inside the walls to keep air from seeping in or leaking out. Finally, the Zip System® wall sheathing provides a moisture barrier and additional structural support.
Air Conditioning and Heating
Setting your home to a comfortable temperature has never been easier. Every home features a programmable Wi-Fi thermostat that you can adjust on the go from your smartphone. Plus, you no longer have to worry about the constant upstairs/downstairs temperature battle with all of CB JENI's two-story townhomes featuring zoned air conditioning and heating systems.

CB JENI features a performance rating of 16 SEER (Seasonal Energy Efficiency Ratio) in a High Efficiency Air Conditioning System. This equates to lower utility bills and a reduced environmental impact because it uses less energy to cool your home.
Appliances
Many appliances used in CB JENI townhomes, such as the dishwasher and refrigerator, are ENERGY STAR Certified, meaning they use less energy to operate without sacrificing performance. These can use up to 50% less energy than models from 10 years ago. The gas range can also save on energy costs.
Water Conservation
Reduced water use is another benefit of your CB JENI home that you won't have to think twice about because the built-in features are doing the work for you. This includes water-saving Delta faucets and water-saving toilets. Plus, a tankless water heater provides hundreds of dollars in savings per year while offering these additional benefits: endless hot water, taking up less space, reduced chance of leaking or overheating, and a longer lifespan than a traditional water heater.
Outdoor Maintenance
A major advantage of townhome living is the care and maintenance of your lawn — and even here, CB JENI continues to be a good steward of the earth's resources with our outdoor sprinkler systems. The automatic sprinkler system has rain sensors which preserves water when nature waters for you.
In addition to the smart phone enabled temperature control, many of our CB JENI communities offer smart home upgrades or are offered in our standard in our homes. These include a video doorbell system, wireless security system with keypad and motion detector, and an enhanced Wi-Fi network to minimize dead spots in the home and keep your devices connected. To view details about the energy savvy features of a specific CB JENI home, click "Energy Savvy" and "Included Features" under Community Details.