Make the Most Out of the Extra Room in Your House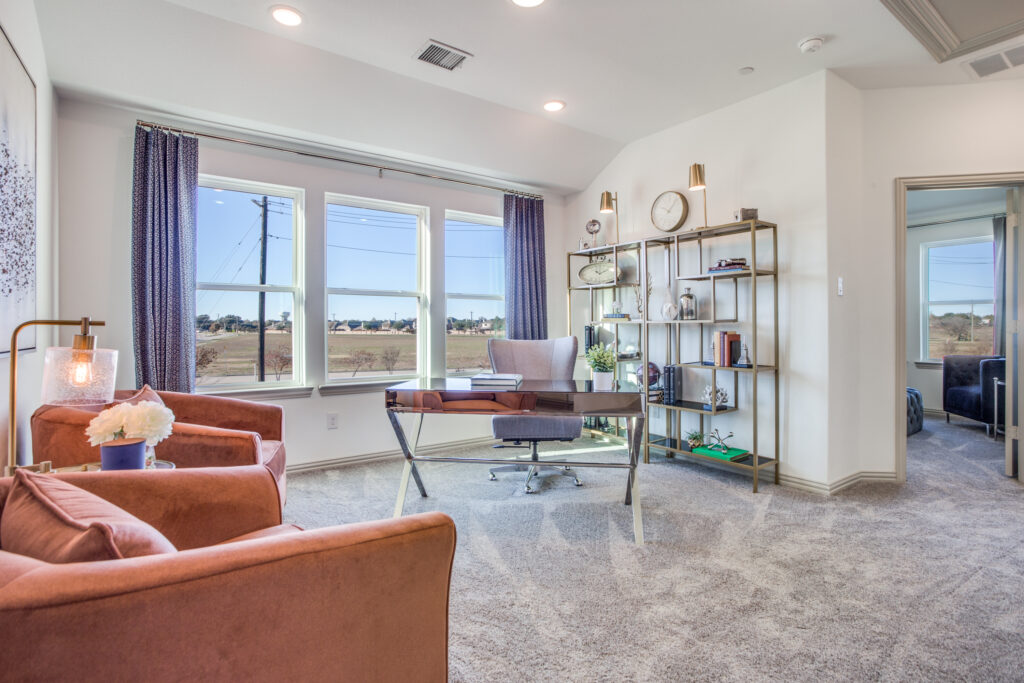 Dreaming up a design and function for your home's extra spaces – or reimagining traditional rooms – is part of the fun of owning your own home. CB JENI townhomes, the premier builder in Dallas-Fort Worth, offers a variety of floorplans to suit your family's needs, like open-concept kitchen/living/dining spaces ideal for entertaining and flex spaces with endless possibilities.
Select floorplans include options to get creative with a second dining area, a game room or loft, a spare bedroom beyond your family's need, a first-floor flex room, a pocket office, or large owner's suites with room for a reading nook or desk. Consider these inspirations below as you create the home you've always wanted.
Home Office
If the past year has taught us anything, it's that a home office is an essential part of modern life. Even if you're returning to the office primarily full-time, many companies are offering more flexibility for employees to work a combination of in-office/at-home days. Your spare bedroom can work as a dual-use guest space and home office, or you can convert your dining room (or a portion of it) into a work station – keeping in mind that hidden storage like cabinets with doors keeps the clutter tucked away. Bookshelves help you utilize vertical space and can add style to any room.
In today's work environment, many home offices need favorable lighting, a pleasant background, and quality acoustics for video calls with your team or clients. Don't forget a comfortable office chair. Entrepreneur magazine offers these helpful tips on Establishing Your Home Work Space.
Game Room
Select CB JENI floorplans include a large game room or loft area on the second floor. Do your kids love gaming? Set up a TV, gaming chairs, and their favorite video game system. You can also use it as an electronics-free zone as a kids' playroom with toy bins and cabinets for board games, puzzles, and Legos. Hidden storage, like cabinets with doors or cubbies with baskets, makes clean up a cinch. Discover inspiration for great playrooms here. Want to make the area a little more sophisticated? Set up a pool table to sharpen your billiard skills and a bar cart for when you entertain. House Beautiful offers these inspirational 37 Epic Game Room Ideas.
Music Room
Gathering loved ones to sing around the piano or strumming an acoustic guitar may be your jam. Aspiring musicians also need a practice area. It makes sense, then, to convert a corner of your great room, dining space, or even a spare bedroom or flex space into a music area. Select CB JENI townhomes include a second dining space ideal for a music room. Check out these interior design tips on How to Design a Music Room.
Home Gym
If you prefer to work out at home – on your schedule followed by cleaning up in the comfort of your own shower – your townhome provides plenty of space for a home gym. If you simply want a yoga mat and free weights or decide to invest in the latest smart gym equipment, turning your spare bedroom into a workout space is a great option. Using a part of your garage also makes sense for your home workout. A fun twist? Installing a rock climbing wall is one sure way to attract your kids' friends and become the neighborhood "cool house." Shape.com offers these five steps on How to Set Up a Home Gym You'll Actually Want to Workout in.
Reading Nook
If you love to read, creating a quiet spot in the house to escape with your favorite novel may sound dreamy. A comfortable couch in the corner of your office or owner's suite next to the natural light creates an inviting reading nook. A side table or bookshelf is handy for your TBR (to-be-read) stack and a place to set your drink or snacks.
Craft Space
After working all day, you may need a creative outlet like sewing, painting, or crafting. Finding an optimal workstation is key, plus ample storage to keep potentially messy projects contained. To create a dual-use space, combine your craft area with your home office or reading nook – just make sure you have separate spaces so you don't have to put away a project when you need to hop on a work call.
"The magic thing about home is that it feels good to leave, and it feels even better to come back," wrote author Wendy Wunder in The Probability of Miracles. Creating a home that draws you back means making space for who and what you love.