OWNING VS RENTING – WHY BUYING A TOWNHOME IS AN EASY CHOICE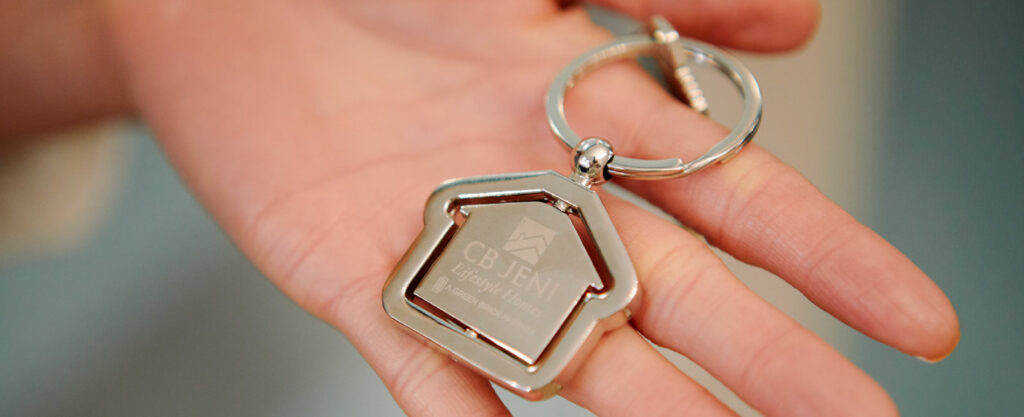 As the Dallas-Fort Worth real estate market continues to boom, residents are weighing the benefits of owning a home versus renting. Buying your first house is an exciting step – but such a big move can cause decision fatigue that leads to inaction. This guide will help you understand that home ownership is a realistic and rewarding next step. Your hassle-free path to homeownership is just a few steps away.
CB JENI, THE TOWNHOME EXPERTS
Buying a townhome offers an affordable step for first-time buyers or those wishing to downsize. What drives our buyers is the accomplishment of home ownership plus the freedom of a low-maintenance, lock-and-leave lifestyle.
Combining both luxury and lifestyle, CB JENI is the top townhome builder in the Dallas-Fort Worth Metroplex. For more than 10 years, CB JENI has welcomed owners into more than 3,000 new townhomes.
"We are passionate about being the best, and that means not taking shortcuts," said Steve Schermerhorn, President of CB JENI Homes, of the design and build process. "Building great townhome communities isn't just part of what we do – it's all we do."
In addition to building great homes, CB JENI's professionals walk buyers through the process. From providing interior designer-selected packages, to keeping buyers informed during construction to ensuring satisfaction after the keys are handed over, our team strives to exceed customer expectations.
DFW POPULATION GROWTH
A thriving business climate, corporate relocations and a booming tech industry are all driving population growth in Dallas-Fort Worth to the tune of a projected 17.9% over the next decade. Culture Map cites DFW as the fourth largest metro area behind New York, Los Angeles and Chicago. Major employers in Dallas-Fort Worth and its suburbs include T-Mobile, Dell Services, Lockheed Martin, American Airlines, Exxon Mobil, Fluor Corporation, Charles Schwab and more. The north Texas cities comprising the DFW Metroplex boast the fourth highest concentration of Fortune 500 headquarters in the United States.
Business and industry growth, the cost of living, and its vast entertainment and restaurant options make DFW an attractive area to live, work and play. As DFW continues to see residential demand increase, so will competition in the housing market for both owners and renters. We'll show you why buying a home in this market is wise, affordable and freeing.
TOWNHOMES – AN AFFORDABLE OPTION
Needless to say, the demand for housing is at an all-time high. CB JENI is answering that need by building townhomes in the most sought-after cities surrounding Dallas-Fort Worth including Frisco, Plano, McKinney and Arlington. These communities boast easy access to major roads and highways for commuters. The proximity to Dallas Love Field and Dallas-Fort Worth International Airport, one of the world's busiest airports, makes travel for business or leisure convenient.
While rising housing costs impact both renters and owners, townhomes remain an affordable option for those who wish to own. CB JENI provides the team to help you build and/or buy your new townhome with less hassle and more confidence.
LOW-MAINTENANCE LIFESTYLE
One of the top benefits of townhome ownership is a stress-free, lock-and-leave lifestyle. For busy professionals and young families, juggling a career, social life and family life means a full schedule. For empty-nesters, foregoing all of the outside maintenance is freeing. Lawns, landscaping, home exteriors, common areas and amenities like the pool, clubhouse, and green spaces (available in select communities) are well-maintained by the homeowner's association. Enjoy the great outdoors at home without the work or travel with ease as you leave the maintenance to us.
"When you buy a townhome, you are really buying a lifestyle," says Rebecca Gibson, CB JENI Director of Sales. Freedom, security and home ownership without the stress of outdoor maintenance makes townhome living an attractive option for owners in all stages of life.
NOT APARTMENT LIVING
"One of the biggest myths is that living in a townhome is like living in an apartment," says Rebecca Gibson. "Stepping foot into any of our floorplans, you will instantly sense how our designs look and feel like a single-family home. We want our homes to be a perfect spot for the person who loves to entertain, but also for the person who just wants a place to call their own."
Each floorplan, no matter the square footage, showcases a kitchen that is open to the family and dining area and a large owner's retreat with a spa-like bath. The townhomes offer plenty of space to work from home, to accommodate growing young families, to entertain guests, and to host visiting family and friends. Unlike apartment living, no one is living above or below you.

STABLE PAYMENT VS RISING RENT COSTS
For owners, the stability of a fixed-rate mortgage payment translates into less stress over rising rental costs. Over the past year (2020-2021), rent payments have increased from 1% to 6% in DFW with the majority of renters paying from $1,000 to $1,500, according to RENTCafe.
"The stability of home ownership gives a lot of security, and it removes the worry over the next lease renewal," said Schermerhorn.
Additionally, rent increases can be unpredictable, sudden and steep, especially if you live in a highly desirable area. Moving every year due to rent hikes is stressful and costly when you consider moving costs, security deposits and other fees. Of course there are costs to owning a home, like taxes and upkeep, but those include benefits of tax deductions and adding to your home's value, while you enjoy the investment of building equity.
LOW INTEREST RATES
The numbers don't lie, and low interest rates in today's housing market offer a positive incentive for those buying a townhome in the bustling Dallas area. At the beginning of 2021, 30-year mortgage rates were hovering around 3% – a whopping 3.97 points lower than 20 years ago and 1.3 points lower than 10 years ago (source: Freddie Mac).
Taking advantage of historically low interest rates translates into major savings for buyers. For example, the payment on a $350,000 townhome at 3.2% interest is just over $1,500 – the average price of rent in Fort Worth. With these realistic numbers, moving from renting to buying doesn't need to be intimidating.
To figure out how much house you can afford, work with your financial advisor or mortgage provider. Generally, the amount that you can borrow will also depend upon your employment history, credit history, current savings and debts, and the amount of down payment you are willing to make. CB JENI works with Green Brick mortgage and is happy to help you get started.
BUILDING EQUITY
Once you've identified your family's prime location for work, school and leisure, it's time to look at putting down roots that allow you to build equity and plug into a community. Owning a home means building equity with every monthly payment – a portion will go toward the loan's interest, taxes and insurance, with the rest toward the principle of the loan. You're building equity through your investment in home ownership.
For example, if you put $20,000 down on a $350,000 townhome, then your equity is $20,000. And as you pay your monthly mortgage payment, your personal investment in the home grows instead of rent payments building your landlord's equity.

MAKE IT YOUR OWN
Paint colors, light fixtures and distinctive touches are what make your house a home. As the owner, you can personalize your spaces without the constraints of a renter's agreement and the fear of losing your apartment deposit. Another bonus? If you purchase a CB JENI townhome before it's built, you can personalize with one of our design packages carefully curated by an interior designer. From modern rustic to cozy transitional to urban chic, finding a style that reflects you will be fun and easy. With home ownership, there's freedom in expressing your own tastes and personality in your home!
PETS WELCOME
Your family includes your furry loved ones, of course, or those of the scaled variety. Pet fees at apartments can be steep, and some complexes don't allow pets or dictate what kind of pets are allowed. As a renter, your guests with pets are often not allowed under your lease terms and fines can be costly.
As a townhome owner, however, pets are welcome. Several CB JENI townhome communities feature dog parks, walking trails and proximity to great parks. Step right outside your front door to easily take your animals outside for exercise instead of going up and down multiple stairwells. Keep in mind these tips to pet-proof your home to ensure Fido or Fluffy are safe and comfortable.
FINDING COMMUNITY
"A townhome community quickly becomes a place where your neighbors become friends," says Rebecca Gibson.
Resident turnover rates at apartment complexes typically hover around 50%, so it can be challenging to build community with your neighbors. Investing in a townhome means finding community with other owners who have a vested interest in property values and shared amenities. When it comes to common areas like pools and green spaces, townhome owners also enjoy less competition due to fewer residents than apartment complexes with hundreds of units.
Plus, you'll discover a greater chance of meeting friends in the same stage of life or with shared interests (like pets, outdoor activities and more). Located in sought-after cities in the DFW Metroplex, CB JENI's well-lit neighborhoods also help deter any unwelcome visitors, while your neighbors can easily keep an eye on your home for an added level of security.
BUYER AND BUILDER – WALKING THE PROCESS TOGETHER
As a CB JENI townhome buyer, you'll get service from our sales team that walks you through the entire process and a construction team that keeps you in the know. Without the stress, experience the luxuries of a home with designer selections. For a new CB JENI townhome, simply select a floorplan and design style and leave the rest to us.
Additionally, CB JENI homes is broker friendly. Our Community Sales Managers will work with you, with or without a realtor, to determine the best home plan for your lifestyle. Please be sure to bring your realtor with you on your first visit to the community.
From choosing your neighborhood and selecting an available townhome to the mortgage process to closing date and beyond, our team provides attention and care as you purchase your home.
YOUR TIME TO BUY A TOWNHOME
Are you ready to step into home ownership, while loving the idea of a low-maintenance townhome? In this market, the list of "pros" is long:
Low interest rates and manageable mortgage payment – With historically low interest rates, paying a mortgage is comparable to rent in many sought-after DFW areas.
Stable mortgage payment – Your fixed-rate monthly payment is predictable without the fear of rising costs with lease renewal.
Lock-and-leave lifestyle – Frequent travelers, aging homeowners, or busy families who don't want to manage exterior upkeep benefit from townhome living, where the HOA covers maintenance and care of the outdoor spaces.
Investing in the future – Building equity means you are building toward your future. When you are ready to move, you have a solid investment in something you own instead of paying a landlord.
Building community – Townhome neighbors create an easy environment for community, safety and security.
A trusted builder – CB JENI Homes is the number one townhome builder in Dallas-Fort Worth. As DFW's largest townhome builder – in both units sold and locations – we not only provide quality homes, but top service and professionalism to put buyers at ease.