Living Large in DFW with Upscale Townhome Amenities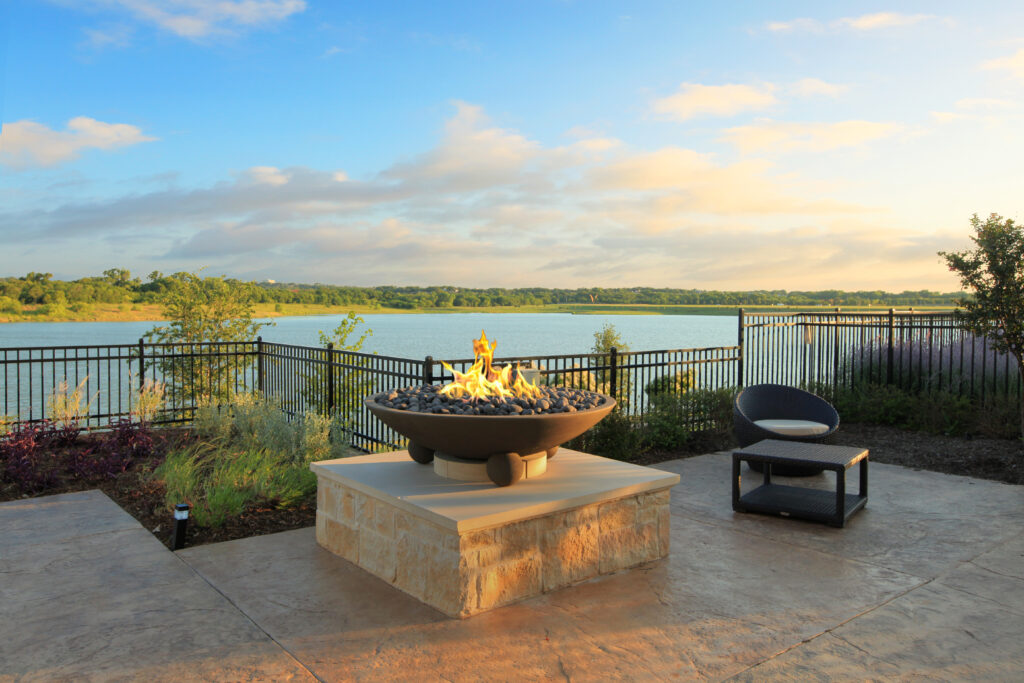 "A home is more than just where you live; it reflects who you are." — Ty Pennington (TV Host and Home Makeover Guru)
Imagine: Unwinding in a poolside cabana after a long week at work. Taking your dog for a walk through miles of nature trails. Meeting your neighbors at a fall harvest party planned by an enthusiastic lifestyle director (with no prep or clean up for you!). Teaching your kids tennis or joining a pick-up basketball game on one of the courts.
These memory-making opportunities — and more! — are yours when you buy a new CB JENI townhome in one of the most desirable areas of Dallas-Fort Worth, including Frisco, Arlington, McKinney, Celina, North Richland Hills, and many other highly sought-after surrounding cities.
Townhome communities have come a long way over the past two decades. No longer "elevated apartments," townhomes today boast modern exteriors with designer-inspired interiors in neighborhoods brimming with amenities, activities, and beauty. Today's upscale communities redefine townhome living.
From bustling suburban vibes to relaxed nature-inspired settings, you're sure to find a townhome community that fits your lifestyle. CB JENI, an expert townhome builder who builds exclusively in DFW, offers new homes in some of the most unique, reimagined neighborhoods in the area. You can afford to live large in a CB JENI townhome. Enjoy a lock-and-leave lifestyle and take advantage of the exciting opportunities in a neighborhood you love.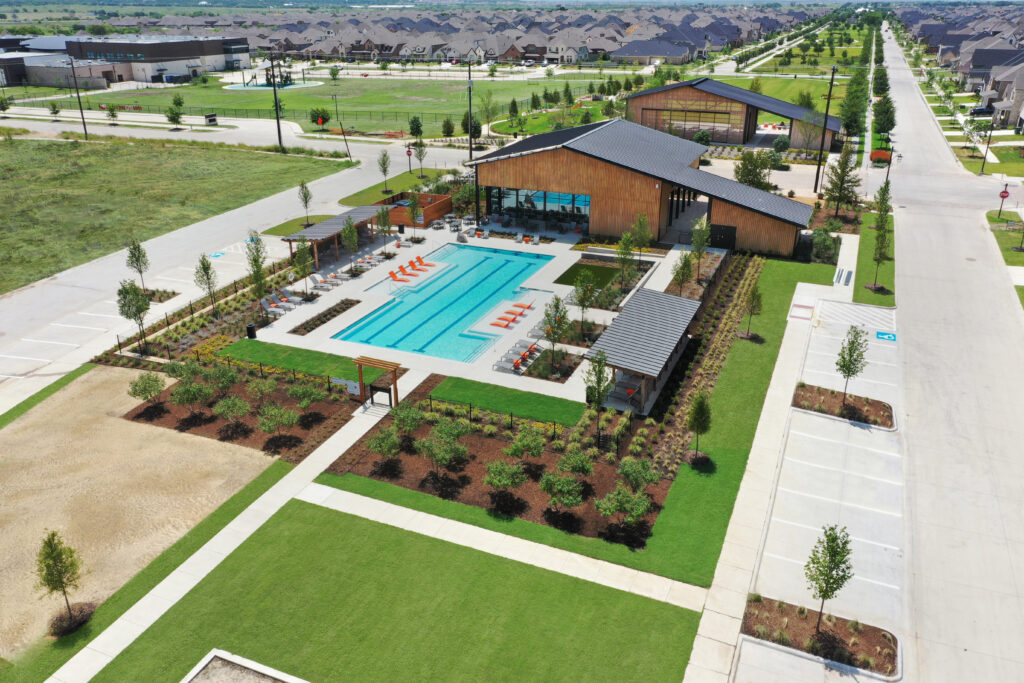 Harvest in Argyle
What's new in the "agrihood?" With a nod to the agricultural history of the land, Harvest is a bustling community centered around a working commercial farm. You can grow your own fresh produce and get educated at farm programs for kids and adults alike. But don't let the down-home charm fool you — the community also includes modern buildings and spaces for events, a coffee house, and a fitness center.
Gather at the open-air Front Porch for concerts or around the fire pits. Two resort-style pools beckon you in the summer. Catch-and-release Harvest Lake and miles of hiking and biking trails help promote relaxation and healthy living. With an award-winning lifestyle program, it's no wonder this community was named 2022 Master-Planned Community of the Year and the People's Choice Community of the Year by the Dallas Builders Association. Find out more about making your home with CB JENI at Harvest.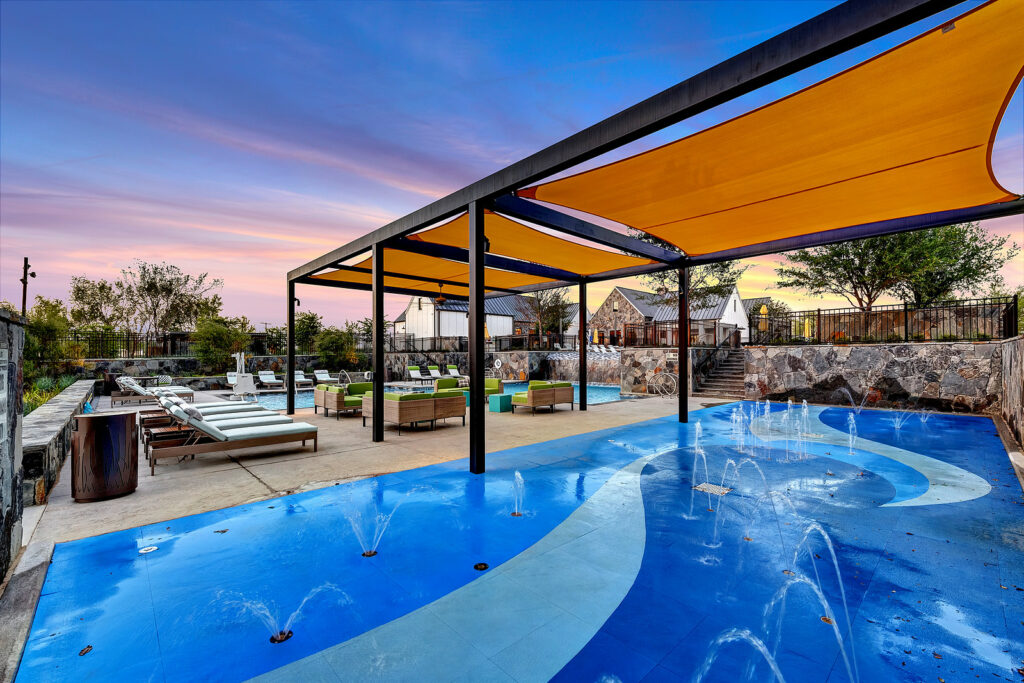 The Grove in Frisco
Move-in-ready townhomes are available this fall in Frisco, and families will have a hard time finding a better community than The Grove. Nature-inspired parks and 8 miles of winding trails will beckon you outside. A dedicated lifestyle director means events for all ages, from Oktoberfest to new resident socials to kids craft events. Make your way to The Grove's water oasis with two pools, a waterfall feature, and splash area for kids — it's truly a sight to behold.
Grab a corner to work at The Orchard House community clubhouse or warm up by the fire. Gather at The Great Lawn and Pavilion for local live music or an impromptu happy hour. The Grove's eight parks give endless opportunities for imaginative play, including a dog park and Adventure Park and Playground with hilltop slides and tree limb forts. Plus, a 7-acre city park is in the planning phase! See if your future home is at The Grove, located at the four corners of Frisco, McKinney, Plano, and Allen.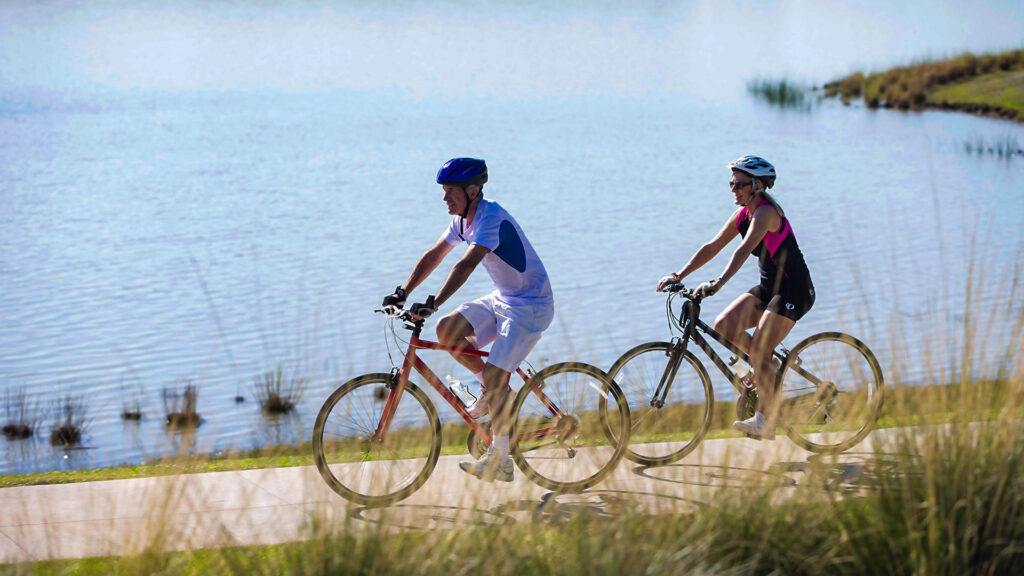 Viridian in Arlington
Imagine walking out onto your balcony with exclusive water views in North Texas. That's what you could find in a three-story townhome at Viridian Island in Arlington! If life near the water is calling your name, this is the only DFW community with access to a major river. Enjoy kayaking, boating, fishing, and more in Viridian's five major lakes and 500 acres of lakes, rivers, streams and wetlands. You can immerse yourself in the slow pace of lake life. Active families may also prefer a two-story CB JENI townhome in the heart of Viridian, where you can explore 1,200 acres of nature trails or invite friendly competitions on the courts — yes, that's tennis, sand volleyball, and basketball.
The Viridian Lake Club is unmatched and a focal point where neighbors love to gather. It includes a 6-acre peninsula overlooking Lake Viridian, five pools, a pavilion, and a small amphitheater. This established master-planned community is adding new homesites and offers a convenient town square with retail, business, and medical offices. See what townhomes are available in this exciting community.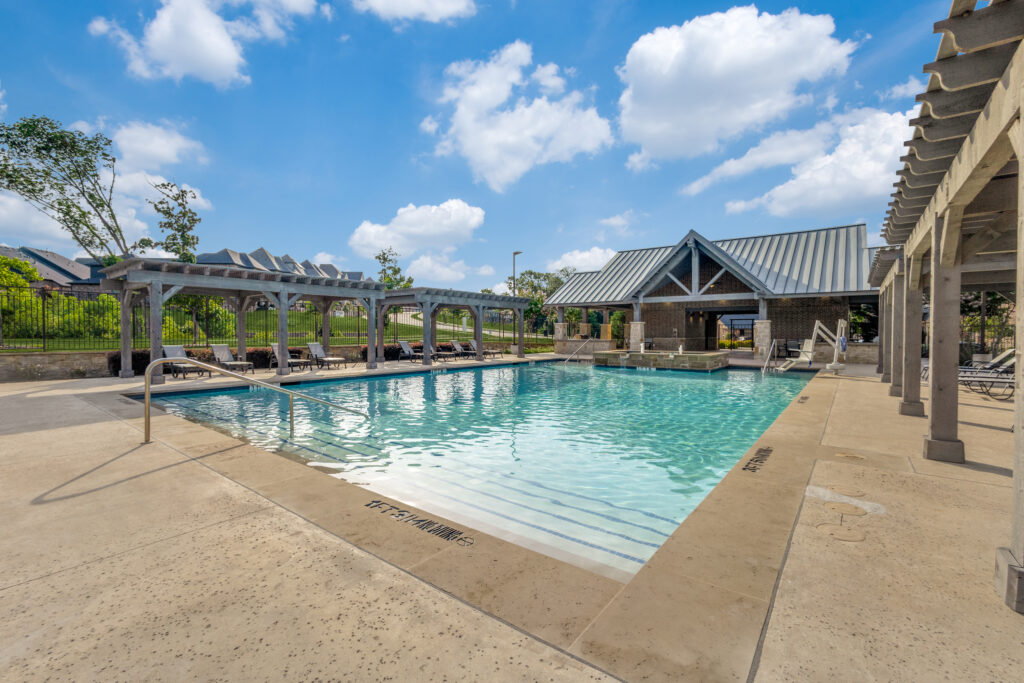 Villas at Southgate in Flower Mound
The secret's out! Jump in to Villas at Southgate with new improved pricing in phase two of this growing community in Flower Mound. With 78,000 residents, the town is nestled next to scenic Grapevine Lake. Beyond the outdoor activities at the nearby recreational area, Villas at Southgate offers places to gather and roam. Grill some burgers poolside as the kids burn off energy after school in the water or at the adjacent playground. Reserve the open-air clubhouse for a birthday party or walk off your daytime stress on the miles of walking trails.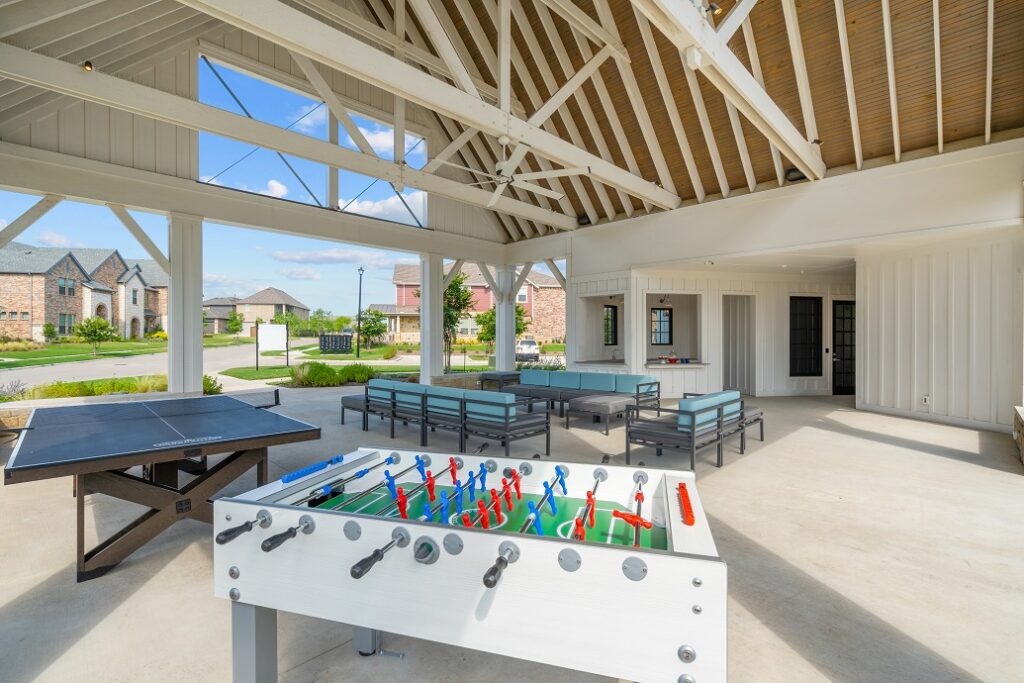 Riverset in Garland
What once was Pickett Dairy Farms, Riverset marries pastoral charm with neighborly gathering in a tranquil setting. CB JENI offers some of our best townhome floorplans here. The modern farmhouse amenity center with an open-air patio and resort-style pool with cabanas is a focal point of the community. This walkable neighborhood connects you to the land and to each other. Meet for a play date at the wide-open central park or stroll the lush greenbelt along Duck Creek. Perennial gardens and a dog park are the cherries on top. Don't miss out on this neighborhood built for connection!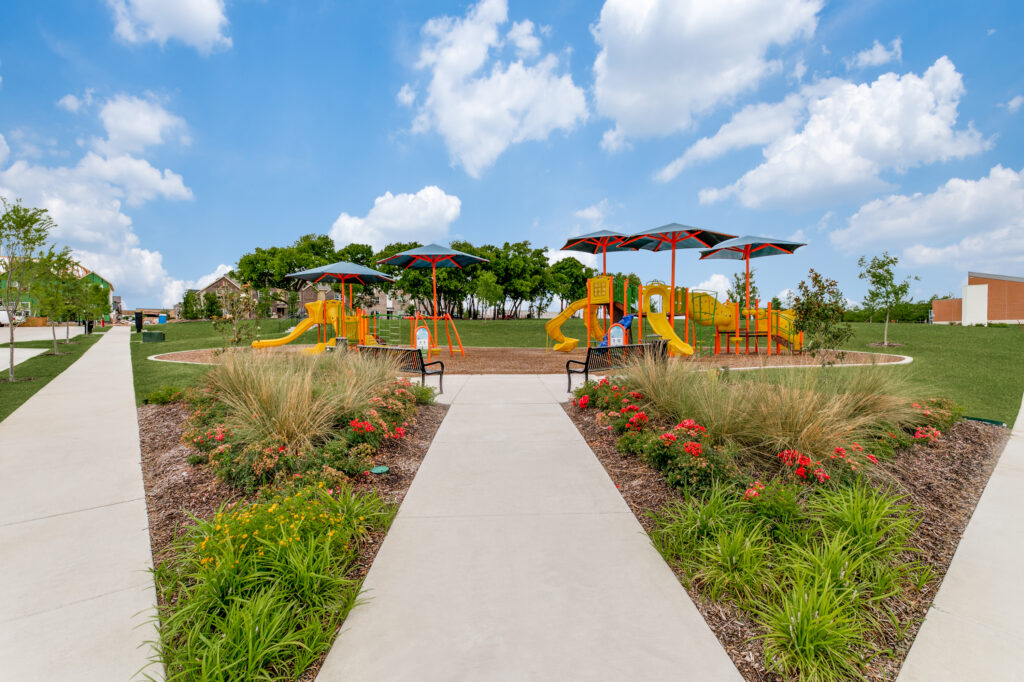 Heritage Village in Haltom City
If you want an affordable first home in an up-and-coming area, discover this budding community in Haltom City, newly opened for sales this fall. Heritage Village features two or three bedroom townhomes, with one- or two-car garages, and modern, chic finishes that are a homeowner's dream. Community plans include a private park, open green spaces for picnics, and walking trails. The neighborhood is just across from the public library, perfect for families and self-proclaimed bookworms. Located near Interstate 820 and Hwy 377, Heritage Village is only 10 minutes from Fort Worth and 20 minutes from DFW International Airport. Read these Top 5 Reasons to Buy in Heritage Village.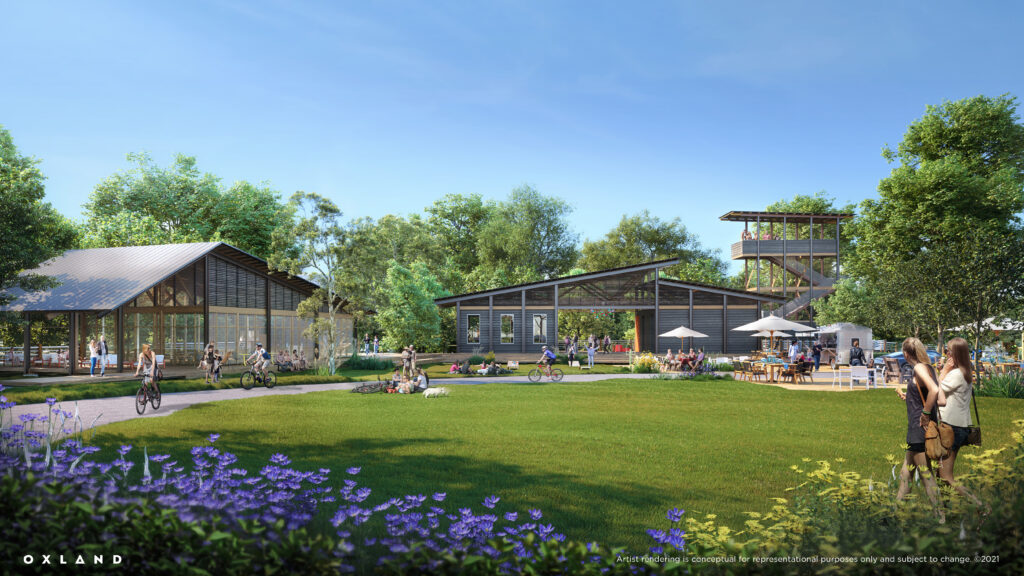 Painted Tree in McKinney — Coming in 2023!
You'll find connection and beauty at Painted Tree, a mixed-residential community in McKinney, that will feature CB JENI townhomes in its Village District in 2023. Inspired by art and nature, this picturesque neighborhood includes mature wooded trails, parks, and nature-inspired gathering spots. Dive into community events and oasis-like pools. The stocked Painted Tree Lake is ready for fishing or a picnic on the shores. On the signature greenway, hop on the two-lane bike path that circles the lake then takes off towards Erwin Park and Downtown McKinney.

Check out our other communities in the DFW Area.
From House to Home
As one of the fastest-growing areas of the country, people are flocking to the Dallas metro area. They attribute the cost of living, pace of life, great schools, and job opportunities as reasons for relocating. What keeps people in an area, however, is making connections that change the mindset from "house" to "home."
Becoming a homeowner brings a sense of pride and freedom. Today's housing market and interest rates may have you looking for a more affordable option to make your homeownership dreams a reality. In a townhome, you can start building equity without the fear of rent increases.
The benefits of a lock-and-leave lifestyle are undeniable: more time to pursue hobbies and connections, plus the freedom to travel without worrying about outdoor maintenance. Apartment living means frequent turnover, but in a townhome you'll find security in living alongside neighbors who are invested in each other's well-being and maintaining property values. And no worries about hearing your neighbors — CB JENI townhomes include double-insulated walls and a shaft liner that provides noise resistance and additional fire safety protection.
In a townhome, you'll experience the best of both worlds: homeownership and life-giving activities right outside your doorstep. Pick the community that appeals to you and call for an appointment today!